Homemade Chilli Oil
Date Posted:23 May 2019
Drizzle over pasta, noodles, brothy soups or salads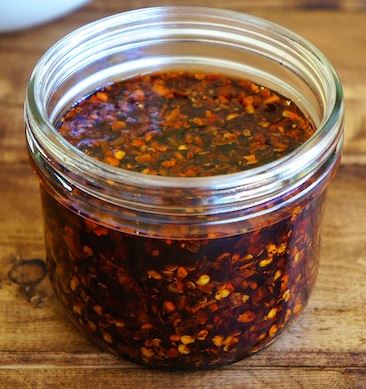 Chilli Oil
Makes about 1 cup
Preparation time: 10 minutes
Ingredients:
3-6 tablespoons of your favourite chilli flakes
(use type and quantity to suit your personal tastes and hotness)
20g of finely chopped ginger
2 cloves of finely chopped garlic
2 teaspoons ground sea salt
1 cup grapeseed, canola or neutral flavoured oil
Method:
- In a medium bowl, add all the chilli flakes, ginger, garlic and salt.
- Place the oil in a small saucepan over medium-high heat until the oil has a watery texture, approximately 3 - 4 minutes
- Pour the hot oil into the bowl with the other ingredients. The oil may sizzle when it contacts the other ingredients, so use caution when pouring.
- Allow to cool
- Store in one of your reusable glass containers in the fridge for up to 4 weeks.
- Shake before use.

Decorate your glass container for a great homemade gift.
What's your favourite chilli?
---
Leave a comment