Reusable Planet Blog - Transitioning To Solid Shampoo Bars
Author: Rachel Date Posted:2 November 2020
Better for you and the environment! Making the switch to solid shampoo bars is one way you can reduce your plastic waste in the bathroom. But if you choose all-natural you'll need to wean your hair & scalp off the chemicals found regular bottled shampoos. Here's how to maximise your success

Switching from bottled to all-natural solid shampoo bars is one way you can reduce your plastic waste in the bathroom. And even though a good quality solid shampoo can be more expensive than some cheap bottled shampoos, bars will last you way longer than the bottled kind, so it's more economical in the long-run, for a better-quality product.
So why would you want to switch?
PROS: Most solid shampoo comes in cardboard packaging, so first up, you are removing that plastic bottle(s) from your waste. And because they last longer, you can save up to 6 plastic bottles with each shampoo bar.
If you're choosing an all-natural bar, it will have none of the chemicals found in regular shampoo, making it better for your skin as well as the environment! That's also better for people with sensitive skin and with skin conditions. It will also alleviate and prevent many chronic dandruff causes.
Plus, a bar of shampoo is also easier to travel with!
CONS: Not really a con, but... generally, you do have to transition and it's an adjustment. Not with everyone! Because everyone's hair and scalp is different, you will have to tailor a transition that works for you.
Here's some tips on how to maximise your success switching out regular bottled shampoo to plastic-free, all-natural solid shampoo bars.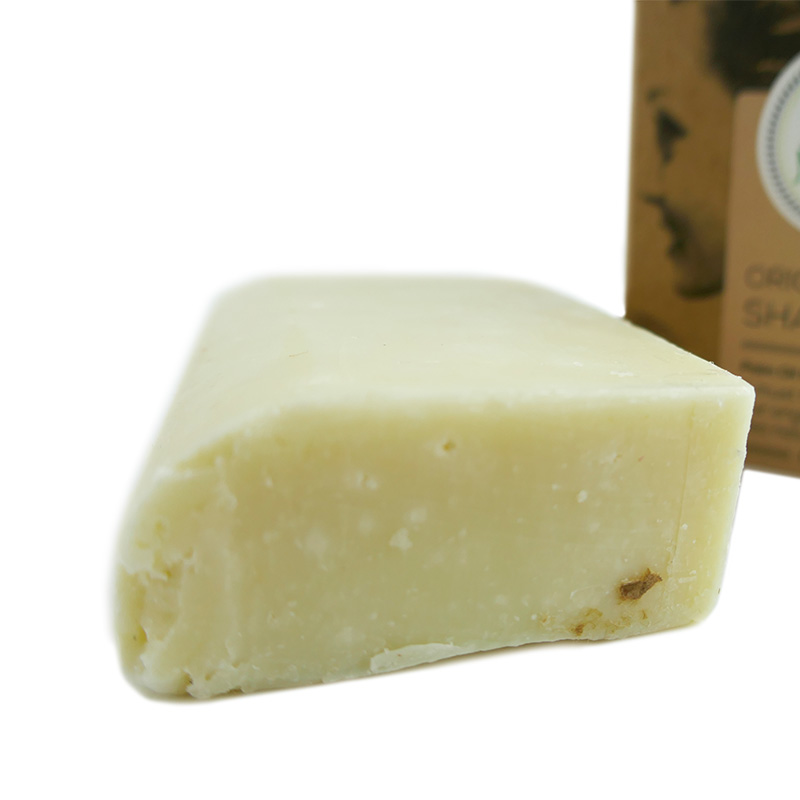 1. Decide which type of solid shampoo you want to go with.
Keep in mind everyone's hair and scalp are different, as are all solid shampoos. Just be fully aware of what you are looking for. Some – usually simply called 'shampoo soap' - will still contain all the ingredients (and chemicals) of regular shampoo, but they are just made in a solid form.
This is fine if you want to reduce your plastic waste. It's a step forward by reducing plastic packaging, and generally no transition will be required. You just have to decide which is the right one for you, just as with any shampoo.
Going all-natural, however, is better for you, your skin, scalp and the environment. Just remember, everything you rinse down the drain likely will end up in the environment or ocean.
[We recommend trying the all-natural method. The ingredients in regular shampoo are an entire subject on their own and for another blog. But please, do look up some trusted sources and do some research on this.]
You've decided to go the all-natural shampoo bar, so you'll need a few more tools.
2. Everyone has a different hair type.
As with all shampoo, what works for you may not work for someone else. Experiment. Give it time. Try a few different bars. If it really is all-natural, you can use it for your face and body as well, if you want to move on and try another bar without any waste. Generally, try and stick with it for a month before switching, especially if you are starting out.
3. Transition away slowly from your regular shampoo.
It likely contains chemicals that strip away your natural oils, so your scalp compensates by producing more oil. Therefore, going cold turkey on these oil-strippers could cause your hair to go a bit lanky until it adjusts. So alternate between your old shampoo and shampoo bar for a period, using the regular shampoo less and less.

4. Conditioning, or not
Without the oil strippers included in regular shampoo, your hair shouldn't need conditioner anymore. Many solid shampoos are also conditioning. Spoiler alert: This does not mean detangling. You need to decide if you are still going to use conditioner – regularly, occasionally, now and then, try going without or get a separate solid conditioner.
Personally, I have a wide toothed comb I use to deal with the knots, starting from the bottom and working my way up. I have long, thick hair, so this is annoying and painful, but first-world problems.
I use a small dab of conditioner just on the ends of my hair about once every 4 washes and I also use coconut oil (sparingly) or Moroccan oil for styling.
(UPDATE April 2022): My shampoo of choice, Shampoo With A Purpose, has released a solid conditioning masque, which I now use in place of occasional bottled conditioner. I love it! You can check it out here).
5. Tips
Stay away from cheap solid shampoos. They likely won't last long and won't have good quality ingredients.
If you find your hair is getting a little heavy, or a build-up of soap, or feeling a bit dry, try rinsing with apple cider vinegar once a fortnight. It has a neutral pH. Mix a couple of tablespoons with a cup of water and your favourite essential oil. Peppermint oil is good for the scalp.
Be mindful how often you wash your hair. In most circumstances, you shouldn't need to wash every day, no matter what product or method you use. Moderate the frequency of washing to suit.
6. There is no wrong or right way
You don't have to be all in or out. Even if you continue to alternate between regular shampoo and natural solid bars, it's great.
Reusable Planet stocks good quality Australian-made solid shampoos that also condition, so you're saving twice the money and plastic! And you can also use them to replace your body soap as well! Winning
Let us know your tips for transitioning to solid conditioning shampoo bars.
A FINAL WORD
If you want to go even further, Google NO POO.
Ahh, the No 'Poo method. Works a treat! As in – no shampoo, of course!
There are various methods, but in general most use bicarb as the cleanser, or 'shampoo', and an Apple Cider Vinegar rinse to neutralise the pH.
But a note on transitioning... as with natural solid shampoo, because regular chemical shampoo strips the natural oils from hair, if you don't transition, some people will experience a lanky result while the hair follicles adjust. Be patient!
If you are using this as a next step after using natural shampoo bars for a while, there should be little transition required.
We'd love to know your experience with alternative hair cleansing methods, and how you keep your hair silky smooth. Let us know in the comments!
---
Leave a comment