This Reusable Menstrual Cup and Wash combo will get you on your way to economical, eco-friendly and leak-free period comfort
The DivaCup reusable menstrual cup is made from 100% medical-grade silicone and hypo-allergenic, being free from latex, plastic, PVC, acrylic, acrylate, BPA, phthalate, elastomer and polyethylene. The DivaCup can be worn for up to 8 hours, depending on your menstrual flow.
DivaWash is a 100% plant-based, all-natural menstrual cup cleanser specifically designed to protect the silicone material of the DivaCup and the pH balance of your body. It's highly concentrated and one drop is all you need!
DIVACUP FEATURES:
Wear for up to 8-hours at a time.
Available in 3 sizes: Model 0 (for teens), Model 1, and Model 2
Comes with a storage bag and detailed usage instructions
Clear cup with no colours or dyes
Can be worn overnight without concern of leaking
Chemical-free on your sensitive bits
Cost-effective. The DivaCup can be reused again and again (we'd recommend changing it once per year). No more spending tons of money on tampons and pads.
WHICH CUP DO I NEED?
Model 0: For women who are new to the world of periods and under 18 years of age.
Model 1: For women under 30 years of age who have never delivered vaginally or by c-section and have a medium flow.
Model 2: For women over 30 years of age and/or for women who have delivered vaginally or by c-section and/or have a heavier flow
USE & CARE:
Before first use, boil DivaCup for 5 - 10 minutes. Wash your hands and cup before insertion and after removal. Wash cup with 100 % plant-based, all-natural Diva Wash cleanser or a mild, unscented, oil-free soap. Clean the rim and holes. Store it in the included cotton bag and away from perfumes or anything scented.
To avoid irritation, avoid cleaning your cup with: Vinegar, scented/fragranced soap, oil-based soap, rubbing alcohol, anti-bacterial soap, baking soda, hydrogen peroxide, bleach, dishwashing soap. No lubes. No bleach. No anti-bacterial soap. Discontinue use and talk to your doctor if you experience any adverse effects.
Product: Reusable Menstrual Cup / Period Cup and cup wash combo
Made in Canada

Please Note: The regulations for menstrual cups in Australia have approved a wear time of up to 8 hours. In other countries such as Canada, the U.S. and Mexico, a wear time of up to 12 hours has been approved. Because Diva International is a Canadian based company, their website reflects the approved guideline from the regulatory agency in Canada. Diva International encourages all consumers to follow the guidelines within the user guide, as approved by their individual country's regulatory agency. ALWAYS READ THE LABEL AND USE ONLY AS DIRECTED. IF SYMPTOMS OCCUR, PLEASE SEE YOUR DOCTOR/HEALTHCARE PROFESSIONAL. As with all menstrual cups, if you have any gynaecological or medical concerns or conditions, please consult with your medical practitioner prior to using a menstrual cup. Use the Diva Cup according to its directions.
The DivaCup is made from durable top quality, medical grade silicone that is suitable for use by those with latex allergies, because it is nitrosamine and latex-free. It is extremely rare to have an allergy or sensitivity to silicone. Studies indicate that silicone is biocompatible with the body and has been used in healthcare applications for over 50 years. If you do experience skin sensitivity, immediately discontinue use and contact your health care provider.
Important: Menstrual cups are a personal hygiene medical device and cannot be refunded or exchanged.
DivaWash Ingredients: Water, Cocamidopropyl Betaine, Disodium Laureth Sulfosuccinate, Sodium Lauryl Sulfoacetate, Sodium Methyl 2-Sulfolaurate (and) Disodium 2-Sulfolaurate (these aren't sulfates!), Glyceryl Caprylate/Caprate, Sodium Chloride, Potassium Sorbate, Orange Oil.
(DIV-DUO-0MO)
| | |
| --- | --- |
| SKU | DIV-DUO-0MO |
| Brand | DivaCup |
| Shipping Weight | 0.2750kg |
| Shipping Width | 0.050m |
| Shipping Height | 0.170m |
| Shipping Length | 0.130m |
| Shipping Cubic | 0.001105000m3 |
Be The First To Review This Product!
Help other Reusable Planet users shop smarter by writing reviews for products you have purchased.
More From This Category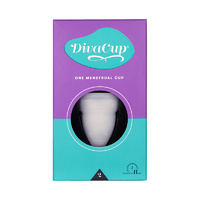 DivaCup Menstrual Cup - Model 2
$47.95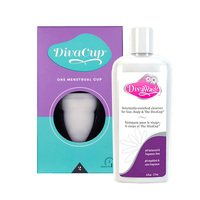 DivaCup DivaWash Combo - Model 2
$64.95