Recycling - Are you doin' it right?
Author: Rachel Date Posted:26 June 2020
Plastic pollution is one of the biggest challenges our planet faces.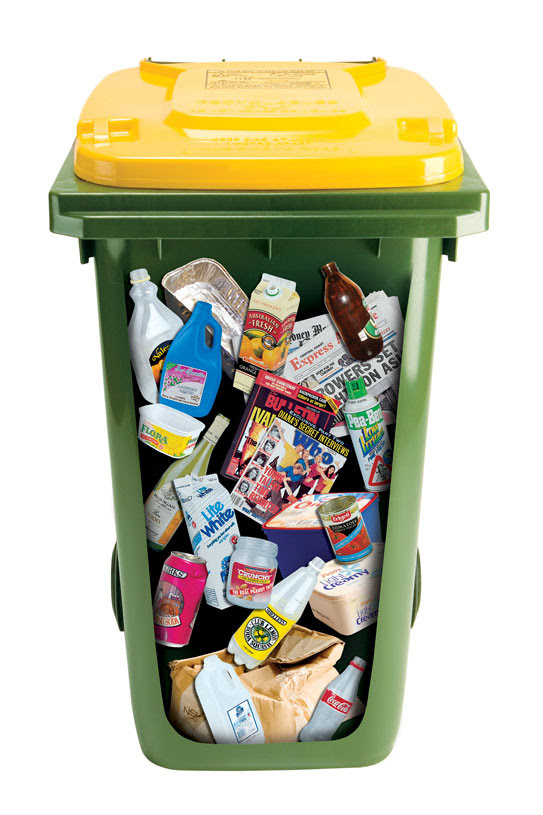 Australians throw out over 1 tonne of plastic waste every minute! BUT - Only 12% of Australian household plastic waste is recycled.
We (almost) all have a Council recycling bin. Most Councils, or Shires, are fairly consistent in what they do and don't take for recycling, with some minor variations.
But you might be surprised to learn that while 98% of households in Australia partake in recycling (well done Aussies!) not everyone uses their Yellow Recycling bins correctly, or to their optimal use.
Studies show around 20% of household waste going to landfill can be recycled instead.
A Brisbane City Council audit of household general waste identified more than 17% of residents' bins contained items that could have been put in the household recycling bin, and a further 47% contained garden waste and/or kitchen scraps that could have been put in a compost bin or worm farm.
According to a 2015 report by Planet Ark, 115 councils across Australia have identified plastic bags as the number one recycling mistake. When non-recyclable materials end up in the waste stream, the contamination can send a whole truck of recyclable garbage to landfill. Noooooooo!
RECYCLING GUIDELINES:
Here's a quick set of guidelines we put together based on our research of common recycling mistakes: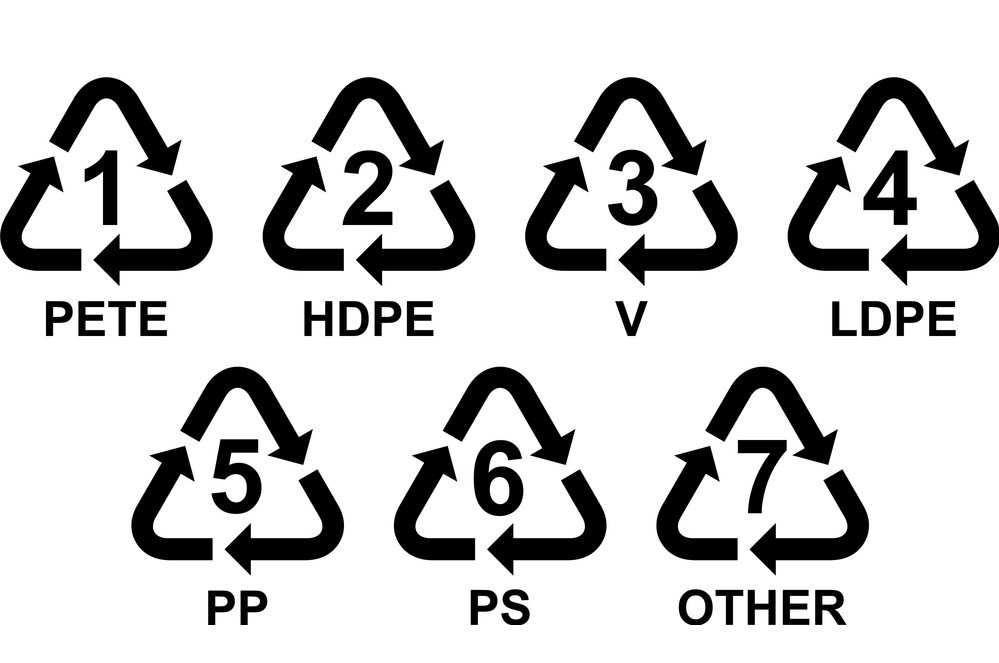 Items with the recycling symbol include a number inside the symbol. The number in the triangle identifies the type of plastic a container is made from. Generally, recycling bins accept only 1 - 5.
Put recyclables in the bin loose, not tied in a plastic bag. Plastic bags will get caught in the sorting machinery. The added step of having to unpack the bag will see the whole lot being diverted to landfill. In fact, only a few Councils accept any soft plastics at all in the recycling bin. However, they can be recycled with other soft plastics in the REDcyle bin (see below).
Take lids off plastic bottles and wine bottles. They are mixed materials and will contaminate the recycling. Singly, they won't make it through the sorting machines. However, steel bottle caps can be placed in an empty steel tin. When it's half-full crimp the tin closed so the caps can't fall out, and into the recycling bin. Aluminium caps, same thing but in an aluminium can. And those tiny soy sauce fish containers used by the hundreds of thousands every day? Collect your little plastic fishies in a plastic bottle to recycle them, so they don't end up with the big fish in the ocean!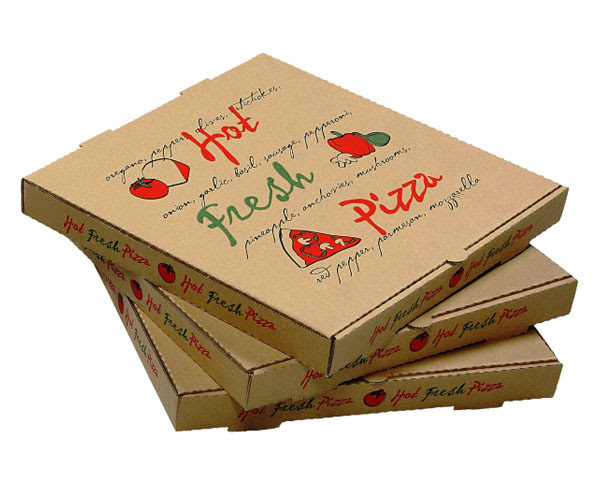 Can you recycle pizza boxes? YES! Pizza boxes can be recycled if food scraps have been removed and they don't have too much grease. At the least, tear off the pizza box lid and recycle that. Take-away containers too, but please remove the food (Apparently it's a thing! Not with you, though. You know better ).
Paper towels cannot be recycled due to how they are made in order to be wet and not fall apart. It can be composted, though! Also… no snotty tissues in the recycling bin - Thank you. But pop the tissue box in there after you have removed the plastic thingy.
Batteries, no, not in the kerbside bin. They are toxic and will contaminate your recycling. But they can be recycled! See below for how to recycle batteries.
Aluminium, like glass, is infinitely recyclable without losing quality, unlike plastic. Clean aluminium foil can be recycled, including items like the tops from yoghurt lids or disposable food trays. Small pieces will fall through sorting machines, so secure aluminium scraps in aluminium cans, or scrunch in a growing ball to at least the size of a clenched fist, and then pop it in the recycle bin.
Aerosol cans are made out of steel and aluminium, and most councils can recycle aerosols.
Brown, clear and green glass bottles and jars can be recycled, but not broken drinking glasses, wine glasses, light globes, Pyrex or mirrors. Ensure jars, bottles and containers are empty and rinsed.
Styrofoam (recycling symbol 6), including packing noodles, can't be easily recycled and therefore cannot be included in the Council bin. Pro Level: squash them down and find a boutique recycler. It's not easy right now, but we're hopeful for the future.
Do recycle long-life milk and fruit juice cartons/boxes. Even though they are mixed media, these can be easily separated due to the type of paper used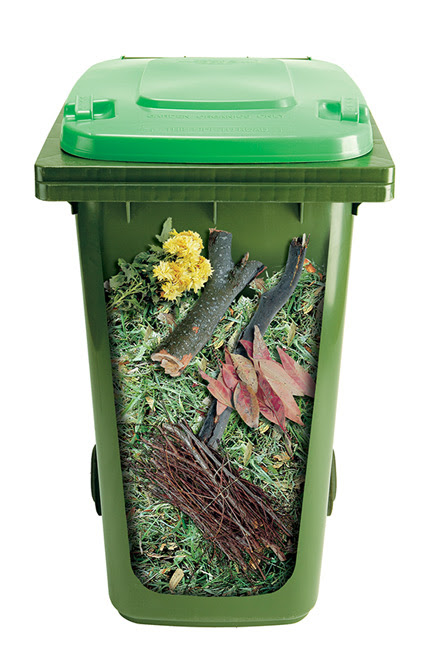 in those containers. Lids off, though.
Councils more often have their own facilities or partnership services where you can drop off just about anything to be stripped and recycled, from fridges to computers and other household appliances and e-waste. Most Councils now also offer Green Waste bins, which variably take either just garden and lawn clippings or food and other compostable waste as well.
And if you're a business looking to reduce your waste, Councils will also offer paid subscription services to help you effectively deal with food and other commercial waste. Food waste is turned into compost for city gardens. Awwwwww.
Best thing is to have a look around on your own Council or Shire Area website to see what they say about recycling facilities and what other options might be available to you. And best of all, many Recycling Centres sell a huge range of quality second hand household items at bargain prices. And they don't come wrapped in plastic!
---------------------------------------------------
THIRD PARTY RECYCLERS:
Beyond Local Government facilities, there are a number of great Not-For-Profit and For-Profit organisations out there that exist simply to make recycling household waste easy.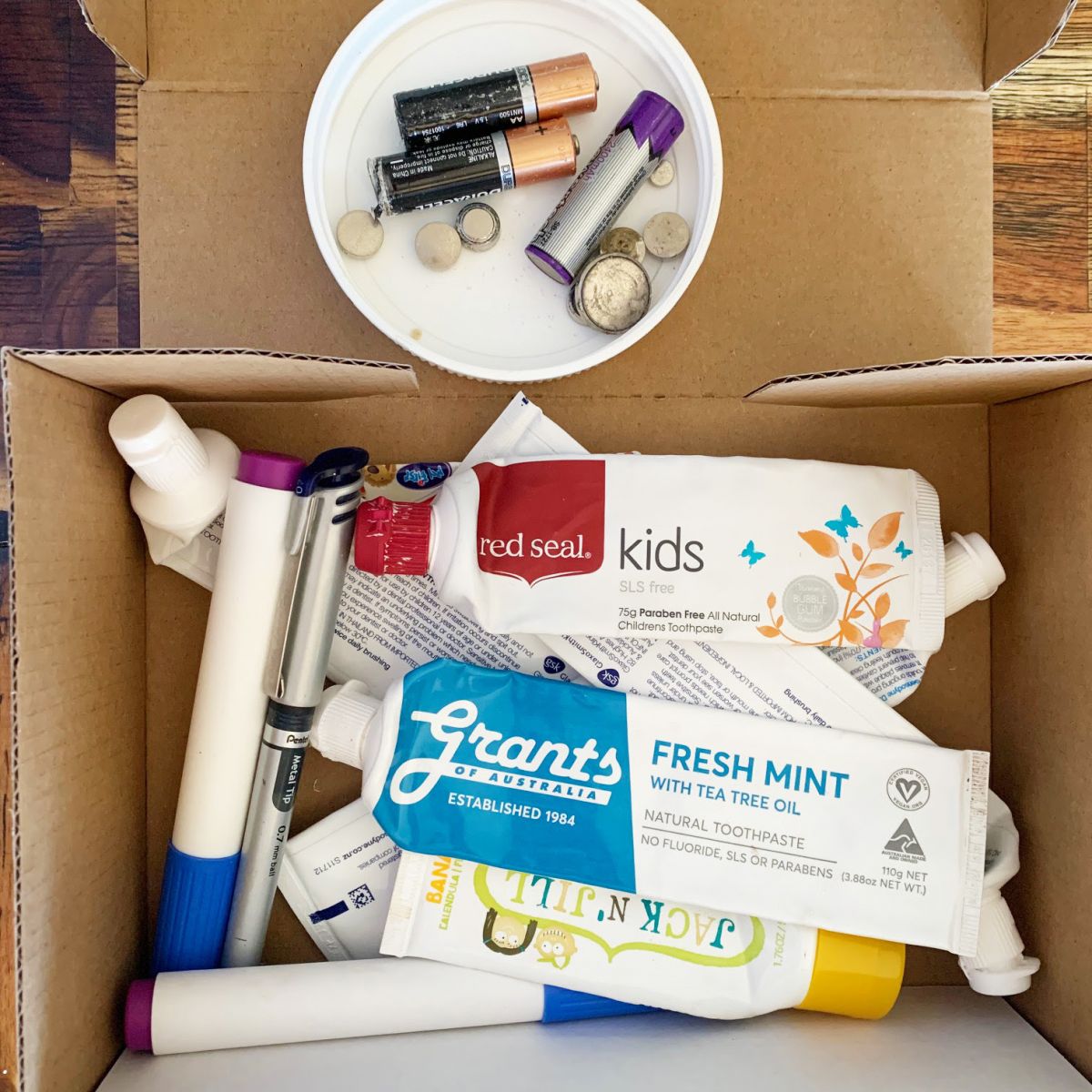 In our house we have a few small cardboard boxes in a cupboard where we sort and store used batteries, plastic pens, toothpaste tubes, small electronics, until we have a small pile to drop off for recycling. Used plastic pens and ink cartridges get dropped off at our local Officeworks. Plastic toothpaste tubes and toothbrushes go to our local Naked Foods bulk food store, who pass them on to TerraCycle. Batteries go to Aldi. All done as part of our normal shopping routines with no extra trips required.
TerraCycle has a great service for offices, community groups or even homes. Purchase a TerraCycle zero waste bin to recycle things that aren't recyclable in your kerbside recycling bin, like toothbrushes, binders, pens, media storage, coffee capsules, and more. Purchase the relevant bin and when it's full, seal it up and send it to TerraCycle (included in the purchase price).
Alternatively, there is an array of drop off points at businesses in partnership with TerraCycle. For example, Biome stores will accept coat hangers, wine corks, stockings and tights, even plastic straws.
Check out TerraCycle's website.
SOFT PLASTICS: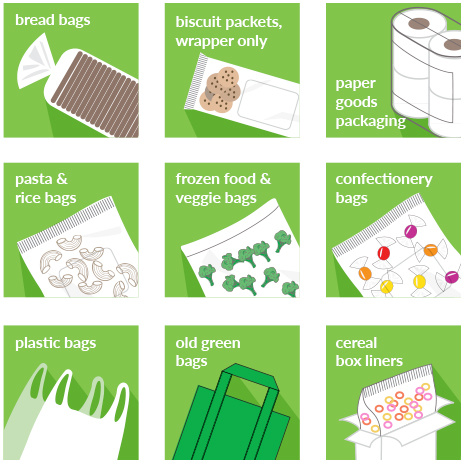 Did you know you can recycle all your soft plastics? Pasta and rice packets, chocolate wrappers, clean plastic wrap, bread bags, bubble wrap, post satchels, even silver lined chip and biscuit packets can all be recycled via REDcycle bins.
You will find bins for these out the front of most major supermarkets. The good people at REDcycle sort and prepare the plastics before they are passed on to Replas, Close the Loop and Plastic Forests to be made into durable park benches, pedestrian paths, recycled asphalt and other commercially viable products.
Since it launched, REDcycle has collected enough pieces of soft plastic packaging to circle the world over 5.5 times, or over 900 million pieces of plastic that'll never end up in landfill, on our beaches or in our waterways. Head over to the REDcycle website for more information.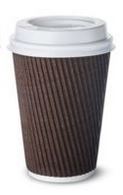 SINGLE-USE COFFEE CUPS, etc
Did you know you can't recycle single-use coffee cups in the usual recycling streams because they're mixed material plastic-lined? Not to mention the low-grade plastic lid that usually comes with it.
But that doesn't worry you, because of course you use your BYO reusable coffee mug from Reusable Planet when out and about... But for those rare times you forget, and you can't do without a barista coffee, there is an option to recycle.
Simply Cups have paired up with 7-Eleven to collect all paper-based takeaway cups, lids and even straws for recycling. There are drop-off locations at participating 7-Eleven stores across Victoria, New South Wales, Queensland and Western Australia. Or, you can organise your own collection point! This is pro-level and useful for any barista-addicted office or workplace.
Check out Simply Cups for more information.
E-WASTE:
E-waste is any redundant appliance or electronic device that ran on an outlet or battery power, such as computers, hard drives and monitors; desk fans; refrigerators; mobile phone, tablets and consoles. Most of the electronic components can be stripped, on-sold and reused. You can easily find an e-waste depot in one of the many resources listed in this article.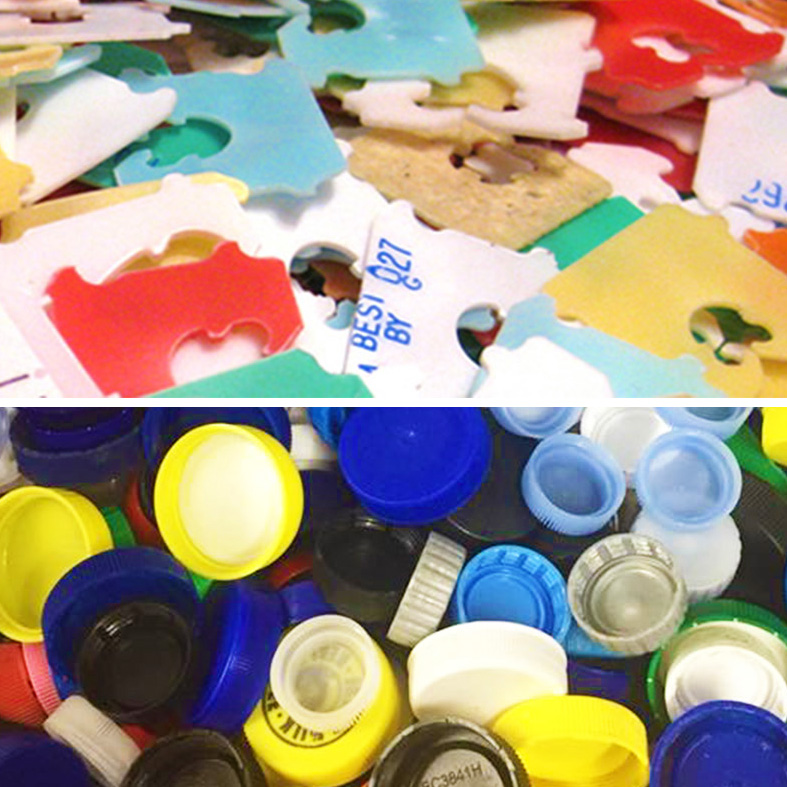 BOTTLE TOPS AND BREAD TAGS:
Next to plastic bags, plastic bottle tops are one of the top polluters of the beach, oceans and environment. They degrade to create micro beads which enter the food chain and pollute our beaches. Bread tags are not much better. Because both fall through the sorting machines, they can't be recycled in your kerbside bin.
But these guys are both recipients of worthy recycling causes. Bread tags can be collected and recycled through Bread Tags for Wheelchairs, where they are repurposed into a range of products such as seedling trays, picture frames, door knobs, coat hangers and more. The money earned from selling the tags is used to buy wheelchairs for people who can't afford them, purchased through local pharmacies. How's that for a circular economy?
Through Envision Hands, bottle tops (with a 2 or 4 recycling symbol) are being turned into prosthetic limbs for kids in need using 3D printing, with the mechanical hands being sent around the world. Through community collection points, over ten million bottle caps have been collected to date, ten times the number initially sought. So much so the program is on hold for now while they find other purposes for the tops, such as Disability Aids, STEM training tools, and Aged Care gadgets.
Please note collections are currently on hold during the COVID pandemic, but don't let that stop you from starting to collect your bread tags now. If you know someone or a community group with a 3D printer, you could recycle your caps with them, or check with your nearest vocational training centre for more ideas.
For Envision Hands website click here
For Tags for Wheelchairs bread tag collection points click here
EVERYTHING ELSE:

Planet Ark is a great resource for the what, where and how of recycling. Planet Ark founded National Recycling Week in 1996 to bring national focus to the environmental benefits of recycling. Planet Ark's RECYCLING NEAR YOU website helps you learn what you can and can't recycle in your household and provides a searchable map to find drop-off locations to recycle a wide range of items from electronic waste, batteries, printer cartridges, white goods, furniture and more.
RecycleSmart. Got e-waste, clothing, or soft plastics for recycling? RecycleSmart can collect them from you for recycling! Download the RecycleSmart app or head to their website and select your local Council area to discover how and where to recycle your waste, or to organise a pick-up in some locations. You can also search for locations in your area to dispose of just about any item, and even find recycling events near you. All in one handy app.
It's important to note that some of the usual recycling services may not be operating currently due to... you know... so before you rush off to buy your next brand-new-to-you secondhand refurbished or repurposed household masterpiece at the recycling centre, or drop your used toothbrush to the food store, just check that services are currently open and/or accepting goods.
The best way, of course, we can keep plastic and unnecessary waste out of the ocean, the environment and landfill is to reduce our waste altogether, where we can. Reuse and repurpose and then, finally, recycle. And when purchasing, seek out items made from recycled plastic to increase the demand against the cheaper and more environmentally costly virgin plastic products.

War On Waste
Just to sign off, if you'd like to know more about reducing your waste, the issues our waste causes and more on the stats, I recommend the War On Waste website, which has an ABC TV Series to go with it.
Off you go.... start sorting your recyclables! :)
---
Leave a comment