Reusable Planet Blog
Author: Rachel Date Posted:20 September 2019
All the reasons we must reign in our overuse of plastic. | The overuse of plastic and plastic pollution in the environment is one of the biggest challenges our planet faces.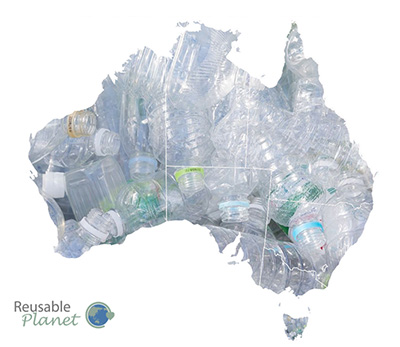 Did you know…?
Plastic is designed to last forever, yet we're often using single-use plastic items for only a few minutes.
Plastic cannot biodegrade – it breaks down into smaller pieces known as microplastic and accumulates in the environment.
Australian households throw out over 1 tonne of plastic waste every minute!
In one day, Australians produce enough plastic waste to fill an entire beach.
660 thousand tonnes of plastic waste every year are created by Australians.
Only 12% of Australian household plastic waste is recycled.
Our landfill, oceans and waterways are being choked with plastic waste.
Eight million tonnes of plastic are going into the ocean each year.
If we don't change our habits, by 2050 there will be more plastic than fish in the ocean.
Wildlife, fish and birds are ingesting and becoming entangled in plastics that drift into their habitat.
It takes (at least) 400 years for plastic to break down in water, and even then it ends up in tiny, tiny pieces that are harmful to marine life.
Microplastics are ingested by vast numbers of marine species, enabling toxins to enter our food chain.
Microplastics have been found in table salt, seafood, bottled and tap water, even beer!
An estimated 1 billion coffee cups are used in Australia every year – most of these are not recycled. This is enough to circumnavigate the world two and a half-times.
Most people don't realise that coffee cups can't be recycled because they are plastic-lined. If they end up in the recycling bin, they can cantaminate the entire load, which may then end up in landfill.
An estimated 1 billion single-use water bottles are purchased by Australians every year.
Plastic straws and plastic ear buds are in the top 10 items found in beach cleanups.
PRO TIPS:
Check out Responsible Cafés - they have a searchable interactive map of cafes that allow BYO cups and mugs,with many offering a discount.
Check out Trashless Takeaway - they have a searchable interactive map of where you can BYO containers in Australia and take a step to reduce the amount of single-use plastics ending up in landfill and waterways.
Check our Reusable Planet! We have a great range of BYO products that help you choose to refuse single-use plastic when out and about!
---
Leave a comment