Tan Tootie natural self-tanning mousse
Made in Australia, Tan Tootie self-tanning mousse is 100% vegan friendly, holds PETA Leaping Bunny certification and accredited Toxic Free by Safe Cosmetics Australia.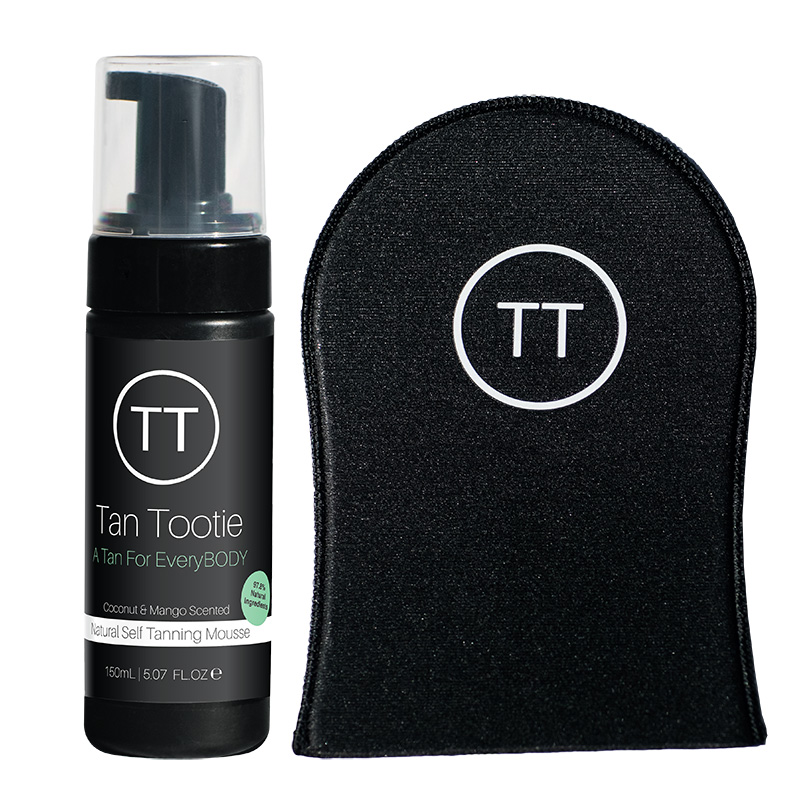 Tan Tootie is a natural lux light-weight self-tanning mousse for everyBODY.
TT is Toxic free, Made Safe, Paraben & Gluten free and is Vegan friendly. Enriched with skin loving natural ingredients and no nasties, you don't have to sacrifice your skin for a long lasting, deep and even tan.
Tan Tootie is scented with Coconut and Mango, so it won't leave you with that fake tan odour and has hydrating organic Coconut oil, Aloe Vera and Green tea. It contains coffee and Guarana seed for skin tightening and firming properties and our active ingredient DHA is made from 100% sugar beets.
Tan Tootie compliments your skin tone and you can control your colour depth.
Apply to the face and body using the Tan Tootie Applicator Mitt and Mini Mitt and get dressed just after a couple of minutes (TT dries UNBELIEVABLY fast)
How to achieve your perfect glow!
>>> Pre Tan
Try to wax or shave at least 24 hours before applying Tan Tootie, this will allow your pores time to close.
Exfoliate and moisturise 24 hours before you apply TT, making sure you pay particular attention to any dry areas like your elbows, knees, ankles!
Before applying TT, make sure your skin is clean and dry.
>>> Application
Apply a pump of TT mousse onto your TT applicator Mitt.
Work it onto your skin in smooth circular motions for an even, streak free tan.
Remember to work fast as TT is quick drying!
If you have an unwanted line, apply another half pump to your mitt and smooth over the area until blended.
Use your mini mitt to tan delicate areas like your face, hands and feet.
>>> Development Time
Remember you control your colour depth!!!
Just a subtle glow? Rinse off after 1 hour.
A sun kissed tan? Rinse off after 2 hours.
Deep, dark bronze? Rinse off after 3+ hours.
Want your deepest darkest tan? Apply a second coat after 30 minutes and leave to develop for your desired time.
If you're in a hurry, apply a second coat after 30 minutes and rinse after 1-2hours.
*Do not exceed 10 hour development time.
You can get dressed after a couple of minutes as TT dries UNBELIEVABLY fast!
Try to avoid moisturiser, perfume and deodorant before washing off.
If you're a rebel and like to sleep in your tan, it's ok as TT wont stain your sheets!
>>> After Care
After leaving your tan on for your desired time, rinse off in the shower with just water. Do not use shower gel, body scrubs or a loofah for the first 24hrs.
Pat your skin dry with your towel.
Moisturise everyday after applying TT, this will ensure to keep your skin hydrated and make your tan last longer.
>>> Tips
If you cannot wait 24 hours before tanning after shaving or waxing, rub a cold compress or frozen peas over the area.
Keep in mind that too much moisture can cause the mousse to slide right off your skin. Don't apply moisturiser except small amounts to your knees and elbows — these are areas where tan sometimes absorbs too much. This will help stop these areas from getting too dark.
If you feel like your tan has grabbed in unwanted areas, use a baby or makeup wipe to gently wipe away the excess.
Tan is going down the drain!? Don't Worry! The brown bronzers will wash away, while the active ingredients continue to work and deepen.
Your tan should last between 7-10 days depending on how you look after it. We recommend thoroughly exfoliating prior to application and moisturising daily after application to prolong your tan. Be mindful that swimming and sweating heavily can affect how long your tan lasts.
TT is 100% vegan friendly and contain no animal ingredients and are not tested on animals. TT holds PETA Leaping Bunny certification and is accredited Toxic Free by Safe Cosmetics Australia
Tan Tootie bottles can be recycled
Store your TT in a cool place out of direct sunlight and standing upright.
Ingredients: Aqua, Dihydroxyacetone, Aloe Barbadensis leaf juice**, Erythrulose, Glycerin, Camelia sinensis leaf extract, Cocos nucifera oil**, Caffeine, Paullinia cupana seed extract, Tocopheryl Acetate, Caramel, Sorbitol, Dimethyl isosorbide, Decyl glucoside, Carrageenan, Cocomidopropyl betaine, Caprylyl Glycol, Phenethyl Alcohol, Sodium metabisulfite, Fragrance, CI 42090, CI 19140, CI 16035, CI 17200, **Certified organic.