The Next Reusable Planet Event is...

BOTANICAL BAZAAR | AUGUST 6 & 7
Come and visit Reusable Planet at BOTANICAL BAZAAR, The Gold Coast's biggest Gardening and Sustainability Festival.
We'll be there on both days at Country Paradise Parklands, Nerang.
Saturday 6th August 11am - 5.30pm

Sunday 7th August 9am - 4pm
Come visit the Reusable Planet stand for:
Reusables and eco-friendly alternatives to every day products

Awesome festival-only specials

Win store credit with Reusable Planet

Junior eco warriors colouring competition

Extra recycling drop off
So what will you find at the Festival?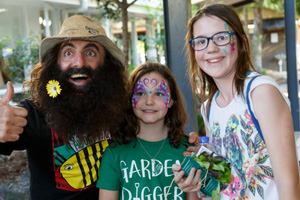 Family activities
Workshops & educational talks by celebrity gardeners & horticulture experts
Food & Entertainment
Plant Market
Green inspired exhibitors
Botanical Homewares
Garden Supplies, Products and Tools
Community Groups like
Gold Coast Orchid Society, Gold Coast Rose Society, Oceans Connect, Gold Coast Amateur Beekeeping Society and many more.
Botanical Bazaar is run by Rotary Gold Coast, with profits raised going back into community initiatives. How great is that?
So if you're looking for ways to make a difference, come join us at the festival!
Tell us you're coming or share the event on our Facebook Event Page here
Visit the event website here
#BotanicalBazaar
Help us reduce our growing waste problem!
WE WILL BE COLLECTING AT BOTANICAL BAZAAR,
SO SAVE UP YOUR WASTE AND DROP IT OFF TO US
AND SAY HI :) .
We collect your hard-to-recycle items that can't go into your kerbside recycling bin. In partnership with TerraCycle, this waste is sorted, shredded, melted and turned into pellets. These pellets are then remolded into useful products like benches, picnic tables and even playgrounds, preventing unnecessary waste from going to landfill!
Pretty awesome huh?
WHAT DO WE COLLECT?
ORAL CARE:
Toothpaste tubes and caps, manual toothbrushes, electric toothbrush heads, toothbrush and toothpaste tube plastic packaging, floss containers.
Please make sure all excess product has been removed (i.e. leftover toothpaste or floss). If you choose to rinse your product, please make sure it's completely dry prior to collection.
WRITING INSTRUMENTS:
Pens, felt tips, highlighters, markers, mechanical pencils and eraser pens (cap included) regardless of their composition (plastic, metal). Even correction fluid pots and correction tape. No wooden pencils, crayons, chalk, glue sticks or erasers.
Email us for more information